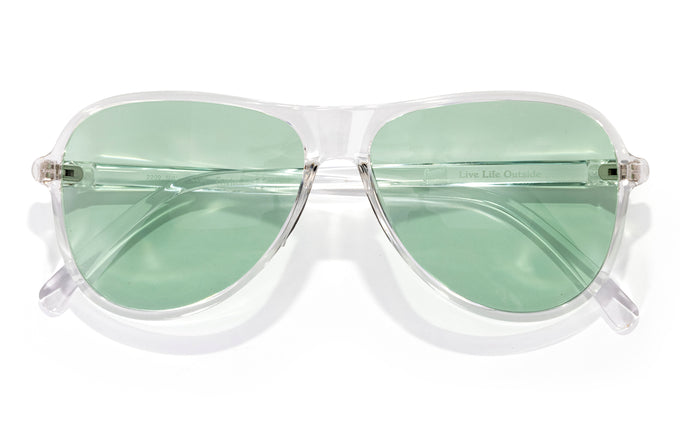 The Foxtrot performs like a modern pair of sport sunglasses yet looks like it belongs in that grainy film photo of Dad with a huge mustache back in 1979. At just over half an ounce, the Foxtrot is the lightest pair of sunglasses we've ever made.
Polarized Lenses
Featherweight 16g weight for Ultralight Comfort
Curvature Continuous Shape Looks Super Fly
SuperLight Recycled Frames
The Foxtrot is a large sized frame with an aviator shape.
Weight: 16.1 grams
Wrap & Angle: High
Temple Width: 141mm
Bridge Width: 15mm
Lens Width: 56mm
All Foxtrot lenses are polarized, block 100% UVA/UVB/UV400 wavelengths and pass the FDA basic impact test.
Eye Coverage: Full
Lens specs:
Forest: Non-Mirrored, Green tint, 11% VLT, Base 4 curve
Amber: Non-Mirrored, Amber tint, 15% VLT, Base 4 curve
Midnight: Non-Mirrored, Blue tint, 15% VLT, Base 4 curve
Bronze: Mirrored, Amber tint, 13.56 % VLT, Base 4 curve
Amber: Photochromic, Amber tint, 29.7%-12.6% VLT, Base 4 Curve Green: Photochromic, Green tint, 66.7%-22.4% VLT, Base 4 curve
We make our shades the right way, with no shortcuts and the highest attention to detail. We stand behind all of our products and we want you to feel totally confident with your purchase.
Lifetime Warranty covers all manufacturing defects in materials and workmanship during the lifetime of the product. It does not cover superficial scratches, wear, and tear, those are just reminders of all the good adventures you've had and make the best stories.
Design Forward
Nice Curves
This curvature continuous lines of this silhouette would make your algebra teacher blush. Tapered arms create perfect tension and fit around the ear. A simple marriage of form and function makes this frame one of our favorites.
Modern Performance
Ultralight Style
You wouldn't want a heavy road bike or laptop, why would you want heavy shades? The Foxtrot clocks in at a featherweight 16.5 grams to take the prize for lightweight performance and serious style. Grippy rubber nose pads keep these frames right where you want them.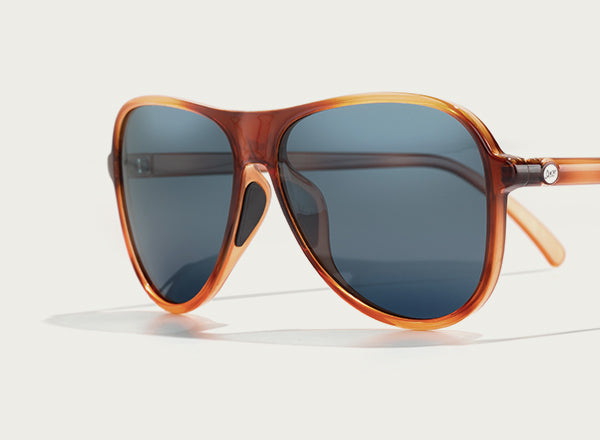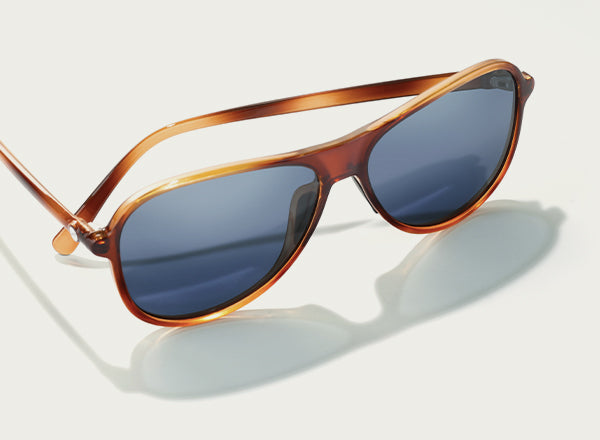 Our Promise
Lifetime Warranty
We proudly stand behind every pair of sunglasses we make. Your frames are covered under our lifetime warranty. Best story on how they broke gets extra brownie points.
Most orders will ship in one to two business days. Expected arrival times vary by location: US: 3-5 days via USPS. International: 4-8 days by DHL and FedEx. Got more questions about shipping? Take a look at our FAQ.
If you're not satisfied with your Sunskis for any reason, you can return them to us or exchange them within 30 days in an unused, resellable condition. So buy a few pairs knowing you can return what you don't like! If you've got a pair you want to send back, head over to our returns page to get handled.