Sport Sunglasses
Our collection of polarized sport sunglasses. They stay in place on your face thanks to ultralight construction, soft nosepads and our perfect fit. Polarized, super comfy, $48 - $89.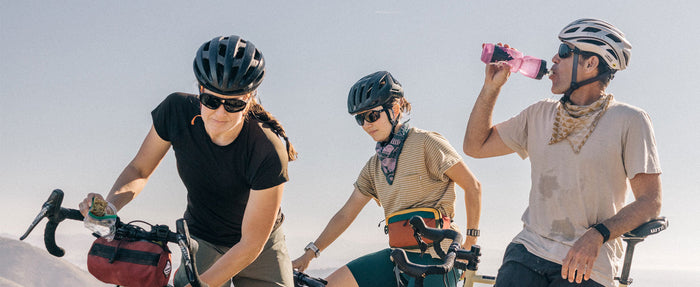 Clarity & Protection
Polarized Lenses
Live life outside while protecting your eyes. Our polarized sports sunglasses reduce glare and protect your eyes from the sun. We use quality lenses made from durable triacetate cellulose with a scratch resistant coating and 100% UV protection.
Design & Materials
Actively Sustainable
Using sustainable materials and a rigorous design process, our polarized sports sunglasses are built with comfort, performance, and style in mind. Whether you're running, hiking or biking, our sports sunglasses are it.
Built To Last
Lifetime Warranty
Stay active without stressing about your shades. With lifetime warranty and durable construction, our polarized sport sunglasses are ready for the most active of humans.
How to choose the best sports sunglasses?
When choosing sunglasses there are two major factors: performance and protection. Sunski polarized sports sunglasses have both. Created with ultralight construction, soft nose pads and our perfect fit, our sports sunglasses will stay on your face comfortably while giving your eyes the protection they need. They also feature 100% UVA and UVB protection. This is ultra-important when you are planning to sport all day.
What is the best material for sports sunglasses?
It's important for sports sunglasses to be lightweight and comfortable. Even more so, they need to perform functionally with whatever sport you are taking part in; and they need to be made of material that provides all of it. Sunski sports sunglasses are made with our SuperLight recycled polycarbonate plastic that allows your shades to stay on your face without any painful pressure.
What are sports sunglasses for?
Sports sunglasses are shades that are specifically designed for sports performance. Created with specific curvatures, nose pads and angles, sports sunglasses allow you to perform your best without worrying about your sunnies. Our sports sunglasses collection features styles that uphold the performance of sports sunglasses without sacrificing style. Look cool. Play cool.
Are polarized sunglasses good for sports?
Yes. Polarized sports sunglasses will help reduce glare. Reduction of glare can help with vision whether you're on the field or the trails. Luckily, all Sunski shades have polarized lenses, so you can focus on your personal performance and let us worry about your shade's performance.
How to keep sports sunglasses on your face?
There are many ways to ensure that your sports sunglasses will go the distance with you. Most sports sunglasses are designed with curved or adjustable earpieces, rubber grips on the temples, and a wraparound silhouette to keep them on your face. Some people use straps or lanyards to make sure they don't lose their shades. Sunski combines elevated design and materials to keep your sports sunglasses on your face all day comfortably. Lightweight and perfect fit, our sports sunglasses pair well with whatever activity you take on.
Polarized sports sunglasses without the action figure look
Nothing causes imposter syndrome like browsing high-end sports sunglasses. If you're like us, the price tag alone is enough to activate your gag reflex, and you're vaguely terrified an Ironman champion will mistake you for a kindred spirit.
But you don't have to be obsessed with lycra, titanium, and aerodynamics to notice a difference between regular, everyday sunglasses and polarized sports sunglasses. Anyone in pursuit of outdoor adventures can benefit from a pair of UV protection sunglasses designed with athletic endeavors in mind.
Grabbing a pair of sports sunglasses is an easy way to up your game, whether you're tackling gnarly terrain on your mountain bike, running a technical trail, or finally sending that climbing project.
Ditch imposter syndrome when you grab a pair of Sunskis. With better visual accuracy, precision and comfort, you'll be able to find your edge without feeling phony. Here are a few things to consider when choosing active sports sunglasses.
Take a closer look at our UV protection sunglass lenses
Since you spend more time outside than the average bear, you'll want to make sure your lenses block 100% of UV rays. Sunski has your peepers covered on that front. All of our polarized sports sunglasses block 100% UVA/UVB/UV400 wavelengths so you can feel comfortable knowing your eye are UV Protected.
While almost everyone can benefit from polarized lenses, they're particularly useful for athletes. When moving at high speeds down a trail or ski slope, it's handy to be able to see slick rocks, mud, or ice. Polarized lenses give you greater definition by enhancing contrast and reducing glare, which in turn provides better accuracy when making split-second decisions.
Dark-tinted sports sunglasses are good for more than hiding a bad hangover. If you're making a splash on the water or frolicking in the snow, look for a lower VLT rating, which means more light is blocked in highly reflective conditions.
Fashion is important of course, but it should be secondary when evaluating your lens color for sports. Gray tinted lenses reduce overall brightness, but colors still look normal. Blue lenses, on the other hand, improve color perception and cut through glare, making them great for snow and water sports. Check the Specs section below any of our sunglasses to find information about the lens tint.
Sport-specific features to watch out for
No one wants to deal with sports sunglasses that slip, but it's particularly crucial that they stay put as you grab that giant trout out of the water or catch some air on your mountain bike. And running sunglasses need to stay put as you bounce down the trails, or you risk taking a tumble.
Our ultra-popular blue light collection includes four of our bestselling silhouettes in eight colorways, so you can pick something that fits your unique sense of style. From the bold, cateye Makani to the classic round Dipsea, square Headland and Madrona to the stylish, modern Yuba, you're sure to find something you love among our collection of blue light computer glasses.
Wrap-around frames will keep your sport sunglasses snug on your face, so all you need to worry about is crushing the next challenge. Both the Topeka and the Kiva have high wrap and overall coverage, with the Topeka also featuring grippy rubber pads on the nose bridge for further assurance your sports sunglasses will stay put.
Frame material matters
It's important that your frames are durable enough to withstand your adventures without being so heavy that they weigh you down. Our superlight frames are made from recycled plastic that's stronger, lighter and more comfortable than anything else out there.
Sunskis are lightweight, but sturdy and built to last. They're designed to pack a punch on the trail, slopes, fishing boat, or wherever your shenanigans take you. And should anything happen to the lenses in the line of duty, we offer replacement sunglass lenses. On the other hand, if anything outlandish should happen and they fail you, let us know. All of our UV protection sunglasses come with a lifetime warranty.
Sports Sunglasses For All Outdoor Adventures
Want to up the ante even more? We're talking about vertical gain. If your sport takes you into high altitude areas, check out our glacier sunglasses, modern performance shades featuring ventilated, removable sun shields; or our hiking sunglasses, polarized sunglasses created to take you to new heights.
If you aren't into higher elevations, take your sports sunglasses on flat land or sea with our running sunglasses and fishing sunglasses. Whether you're out on the water all day or hitting the pavement, you can count on your polarized sports shades to have your back.