Kids' Polarized Sunglasses
Our selection of kid's sunglasses & blue light, built to last and backed with a lifetime guarantee. Polarized, $48.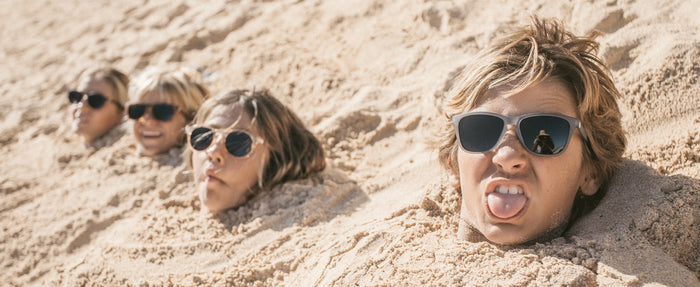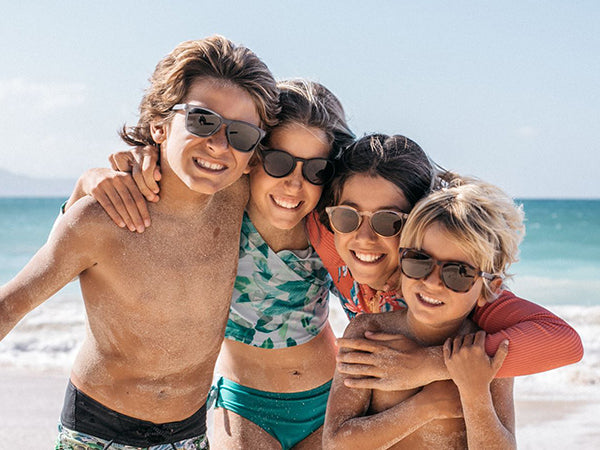 Safety First
Kid's Polarized Sunglass Lenses
Our kids' sunglasses protect your lil' one's eyes from the sun, while still allowing them to look cool. All of our kid's polarized sunglasses block 100% UVA/UVB/UV400 wavelengths, so they can still be kids and be safe.
Fun To Wear
Built for Kids
Our kid's polarized sunglasses are made from the same durable, sustainable materials as our full-sized human sunglasses. Kidskis are made to take on the life of a kid, so you can worry less and play more.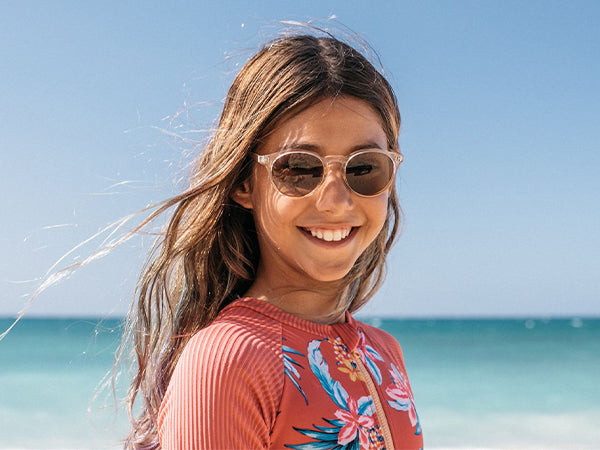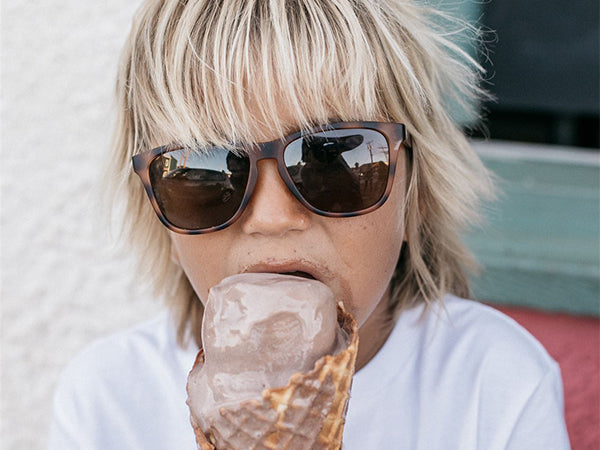 Lifetime Warranty
Kid's Sunglasses Made to Last
Playful lifestyles are encouraged. Our kid's polarized sunglasses are covered by lifetime warranty. We want to let kids be kids and for you to feel confident in your purchase.
Do kids need polarized sunglasses?
It's recommended that kids' sunglasses are both polarized and have 100% UV protection. Luckily, all of our kids' sunglasses come with these essential features. Polarization will help kids see more clearly by reducing glare and decreasing eye strain and headaches due to squinting from glare. All Sunski kids sunglasses are polarized, just like our shades for grown ups.
What UV protection should children's sunglasses have?
Kids sunglasses should have 100% UV protection. This means protection from both UVA and UVB rays. Full UV protection protects your child from the long term effects that can occur without it. Sunski kids polarized sunglasses are equipped with 100% UV protection to keep your little ones protected.
How long do sunglasses last?
Your sunnies should last a couple years. But, we know that, especially with kids sunglasses, time may be interrupted by the adventures that come with life. For that reason, we offer a lifetime warranty on all our shades. We want you and your kiddos to be able to live life outside worry free.
Are polarized sunglasses OK for kids?
Polarization on kid's sunglasses is great! It can help make things much clearer for the lil' guys. Polarized lenses cut glare and eye-strain and can make your children much more comfortable when wearing sunnies. Sunski kid's polarized sunglasses are all polarized and protect against 100% of UVA/B rays, so you can keep them safe and they can, well, be kids.
What sunglasses are good for small faces?
While oversized sunglasses are so in right now, it is good for your kids' sunglasses to fit well. Sunski kid's sunglasses are created to perfectly fit tiny sized noggins of kids ages 5-11. If you're looking for small frames for grown ups, styles like the Avila and Seacliff are great for smaller sized adult noggins.
Kid-friendly polarized sunglasses
Kids are moving through the world at a million miles per hour and taking it all in. Everything is new, questions are constant, and life is full of surprises. While you might be used to slathering them with sunscreen and handing them a hat before they head outdoors, sunglasses are also important for youngsters.
Not only do kiddos spend more time outdoors than most adults, but their eyes aren't as well-adapted to blocking out UV rays. Overly sensitive eyes and lots of time outside sans sunglasses could lead to eye problems later in life.
Luckily, there's an easy way to prevent that. All Sunski kids sunglasses block 100% UVA/UVB/UV400 wavelengths. The only trick is convincing your little human to wear them regularly. We've got your back on that one too—our kids polarized sunglasses come in two of the same cool styles as our adult line of sunnies, just made mini.
That means you and your small sidekick can even sport the same style. No guarantees that means they'll stop stealing yours, though!
Kid's sunglasses: The basic requirements
Just because kids are, well, kids, doesn't mean they don't crush. In all likelihood, they're probably doing more radical stuff in their youth than you do in adulthood. When imagination is endless, adventures can be found anywhere. And when adventures are everywhere, you have more of them, right?!
All that is to say, in addition to UV protection, polarization is a key feature of kid's sport sunglasses. Kids don't dig a whole lot of buffer between them and their experience of the world. Many other leading brands of kid's sunglasses aren't polarized, and instead have really dark tinted lenses, making it hard to see out of them. If your kid's sunnies are harshing their vibe, they're not going to want to wear them.
Our kids polarized sunglasses look cool (another important feature, kids aren't fools) and they actually make it easier to see. The polarization cuts the glare from the sun, so they aren't squinting, and colors are enhanced. Whether your youngster likes staring at cloud formations or spotting fish in the water—polarization makes it possible, and sunglasses make it safe.
Durable sustainable kid's sunglasses
It's pretty much a given that your kid's sunglasses will hit the deck at some point, probably multiple times. You need sunglasses that can withstand your child's adventures—from attempts to fly, to sandcastle competitions, to ski lessons, and beyond.
From the start, Sunskis were designed to support outdoor pursuits of all kinds, and our kid's sunglasses line is no different. Our kids polarized sunglasses are made from the same tough recycled plastic as our full-size human sunglasses. Not only is the plastic intercepted on its way to the landfill, but our unique SuperLight polycarbonate resin is stronger, lighter and more comfortable than anything else on the market.
To prove that all our sunglasses are built to last, Kidskis are also included in our lifetime warranty, and come with replaceable lenses. All our sunglasses for kids are made to fit little faces age 5 to 11, which means they won't out-grow them instantly. Can you remember the last pair of sunglasses you had for six years?
So unless the Incredible Hulk does a "hulk smash" on a pair of Mini Dipseas or Mini Headlands, your little radical human should have these for awhile!