Blue Light Glasses
Your tired eyes don't deceive you, we now offer Blue Light glasses! Look sharp and feel good in front of the screen. $58.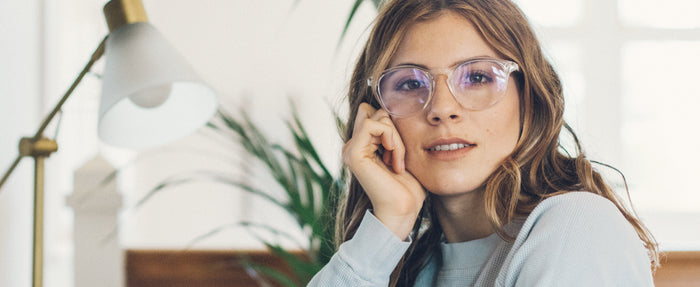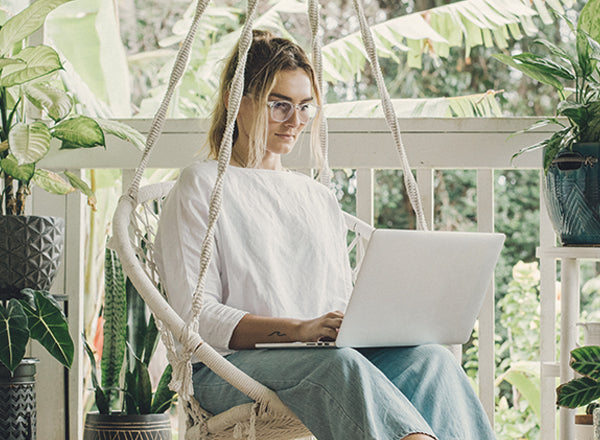 The Smart Choice
Blue Light Glasses
At Sunski, we take your eye health seriously. Our blue light blocking glasses reduce eye strain and protect your eyes from blue light. Enjoy better quality sleep and wake up feeling refreshed and ready for the next day's adventure.
Design & Materials
Sustainable Style
Our blue light computer glasses are made from recycled SuperLight. We use quality, sustainable materials and a no shortcuts design process to ensure our glasses do no harm to the planet. Sunskis are carbon neutral and every purchase gives back to the planet.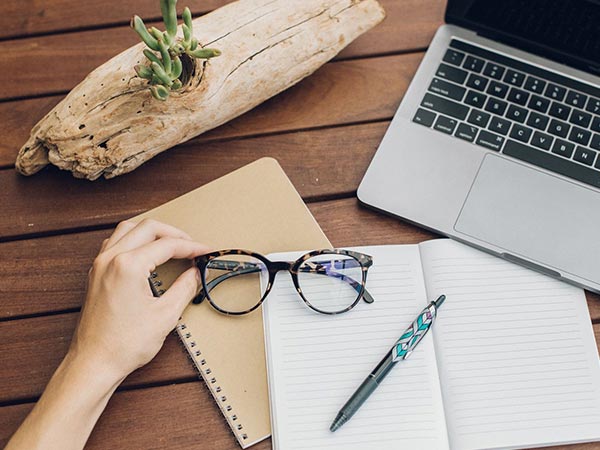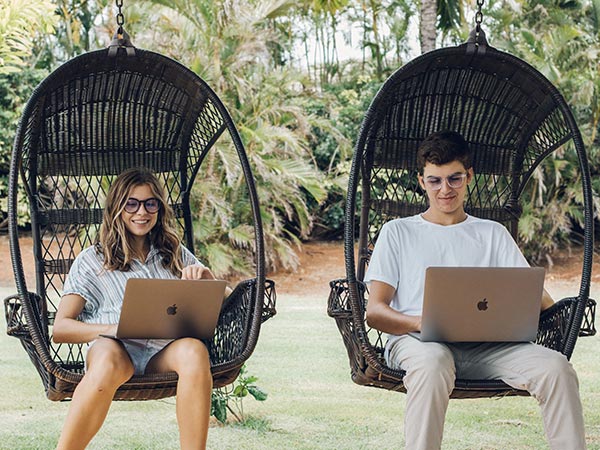 Better For Your Eyes
All Day Comfort
We believe everyone deserves happy, healthy eyes. Every pair of blue light glasses we make is designed for all day comfort. Our blue light glasses are 100% UV resistant and safe for indoor and outdoor use. All Sunski blue light glasses come with a lifetime warranty, so you can feel totally confident about your purchase.
Is it OK to wear blue light glasses everyday?
Short answer, yes. The blue light coating is so subtle that it won't make any difference unless you are looking at a screen. This makes it possible to use blue light glasses on their own as computer or gaming glasses, or add blue light coating to your everyday glasses for some extra protection. Blue light also comes from your phone, so wearing blue light blocking glasses even when not looking at a computer screen could be beneficial for your eye health.
Can you wear blue light glasses with contacts?
Yes, you can wear blue light glasses with contacts. Since they do not have any prescription, and solely protect your eyes from the blue light, Sunski blue light computer glasses are an added layer of protection and assistance for your eyes.
Can Blue light glasses cause headaches?
While they are a large help in reducing headaches caused by eye strain, blue light glasses should not cause headaches. Blue light glasses are created to help things on screens come across clearer, so your eyes are not straining to read. They should not be causing headaches, but relieving them.
How much blue light do glasses block?
All Sunski blue light glasses block 50% of blue light below 450 nm wavelengths, and 100% UVA/UVB/UV400 wavelengths. All Sunski blue light blocking glasses pass the FDA basic impact test.
What is the benefit of blue light glasses?
Blue light glasses help protect your peepers from harsh blue light that comes from digital screens. They help reduce eye strain and headaches and improve sleep. Sunski blue light glasses protect against 100% of blue light and are made for both indoor and outdoor use.
When to wear blue light glasses?
Sunski blue light glasses are a jack of all trades. From gaming to working from home, they are the ultimate blue light computer glasses. Because blue light comes from the screens we are looking at all day, every day, blue light glasses can be worn anytime you feel you need them.
How to clean blue light glasses?
Have a smudge on your blue light glasses? Don't fear, the Sunski micro-fiber cloth is here to save the day! Inside your blue light glasses case lies the answer to your possible chicken-grease-on-the-fingers problem. Unfold your cloth and give those blue light blocking glasses a good wipe down. You'll be back to seeing clear in no time!
Can you wear blue glasses outside?
When we say Sunski blue light glasses provide all-day comfort, we really mean ALL day! Blue light most often comes from two sources: LED screens (such as your phone and computer) and the Sun itself. So if you forget to switch from your Sunski blue light blocking glasses to your regular Sunski shades on the walk from the office to the car, don't stress. Our blue light glasses are still shielding you from blue light, AND from UV rays. (Some of our team even prefers blue light glasses during outdoor activities, like mountain biking, in order to have full visibility of tricky trails!)
Why blue light glasses?
What are blue light glasses? And why are they suddenly on everyone's list of essential items?
If you're wondering what blue light glasses are and why this specialized eyewear is popping up everywhere, you're not alone. While doctors and scientists say there's nothing inherently bad about blue light, most agree that blue light blocking glasses are a smart choice in today's device-saturated world.
Whether you're spending time on a digital device because you're working to fund your next adventure, researching your next weekend escape or just gathering some inspiration for whenever you can safely travel again, do your eyes a favor and grab a pair of blue light glasses.
The benefits of blue light glasses
There are several key benefits to slipping on a pair of blue light glasses before diving into some screen time. From reducing eye fatigue to enjoying a better night's sleep, a pair of blue light glasses can make your eyes feel better. Picking up a pair of blue light glasses is the kind of easy fix that'll have you saying, "Why didn't I do this sooner?"
Blue light glasses are often called blue light blocking glasses or computer glasses because they protect your eyes from blue light, a wavelength of light emitted by screens–think cell phones, tablets, laptops, computers and televisions–that strains your eyes, leading to fatigue and even tension headaches. If you experience eye fatigue from overexposure to blue light, be sure to take regular breaks from your screen and maintain a safe distance from your devices, in addition to wearing blue light glasses.
Blue light is actually a natural wavelength of light. Remember the ROYGBIV light spectrum from your high school science class? There's nothing inherently bad about blue light (or any other color light)–it's just the amount of blue light and the time of day that can be less than optimal for our eye health.
In nature, blue light is strongest in the early morning, which means that using a digital device before bedtime can trick your brain into thinking it's morning, even if it's actually late at night. If you've ever had difficulty falling asleep after spending 30 minutes before bed scrolling through your phone or watching a movie on your laptop, you've experienced one of the common effects of blue light. You may be physically exhausted, but your brain believes it's morning and is trying to tell you to rise and shine.
Insomnia is no fun, especially when you've got early morning workout plans, like going for a bike ride or trail run. Do your quality of sleep–and your eyes–a favor and wear blue light glasses, especially in those crucial hours before you go to bed.
The world's most comfortable computer glasses
When choosing a pair of blue light glasses, style and comfort are two important factors to consider. You want to look good and feel good on that next Zoom call, right?
Our ultra-popular blue light collection includes four of our bestselling silhouettes in eight colorways, so you can pick something that fits your unique sense of style. From the bold, cateye Makani to the classic round Dipsea, square Headland and Madrona to the stylish, modern Yuba, you're sure to find something you love among our collection of blue light computer glasses.
When it comes to choosing a pair of computer glasses, comfort is key. After all, if your job involves sitting in front of a computer, you will be wearing these glasses for at least eight hours per
To ensure your computer glasses are comfortable, choose a pair that is lightweight and well-fitting. At Sunski, we've got you covered in both aspects–all Sunski blue light glasses weigh less than one ounce and are tested on a wide range of face sizes and shapes to ensure they will be comfortable enough to wear all day, just like our polarized sunglasses.
Gaming glasses: Next level blue light blockers
Whether you're picking out a pair of gaming glasses for your next multiplayer battle or you're using gaming to fuel your outdoor sports obsession in the offseason, a pair of blue light gaming glasses will keep your eyes feeling strong and ready for anything
Blue light gaming glasses are designed for extended wear, with features intended to prevent discomfort, eye strain and fatigue, all of which could curb your ability to progress to the next level. Who needs blurry vision when they're fighting for their (virtual) life? Without a pair of protective gaming glasses, it's game over for your tired eyes.
The crystal clear lenses in our blue light computer glasses are designed to give you superior optical clarity without color distortion, so you can see the screen exactly as the game designers intended.
Got a young gamer in the family? We also offer blue light glasses for kids. Pick up a pair of blue light blocking gaming glasses to keep their young eyes happy and protected from blue light, whether it's for school or playtime.